Yesterday I got a message from an old friend. Her Facebook page says she's a young married woman, but she's an old friend to me because I've corresponded with her for a long time. As a middle-schooler, she read my stories on www.BZPower.com, which is where I posted fan fiction about the Bionicle universe.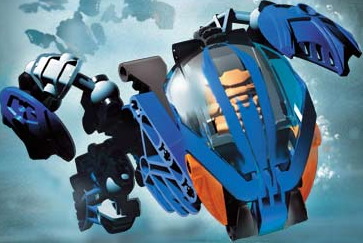 Back in the day, I helped my 5-year-old assemble a Gahlok. This was a gift she'd selected at a pricey toy store with her unsuspecting grandmother. If you're not familiar with Bionicle, imagine a six-inch plastic robot cockroach that curls up to fit back into its packaging, an oval plastic pod. Like every LEGO set, it came with a booklet of isometric assembly drawings. The blue halfmoon torso trusses and gray gears were held with plus-shaped black rods, and the ball-jointed legs and wedge feet made the little gizmo very poseable. It was powered by two rubber bands. When you squeezed just so, the upper half would lunge forward and launch a little rubber thing from its translucent plastic head-plate.
Then my daughter noticed a web address on the creature's container. Pulling her onto my lap, I typed the address into the browser bar. The Danish toymaker had harnessed the newly popular Internet to lavish freebies on the fans. The canon appeared alongside the sets one chunk at a time, through online flash animations, interactive games, and digital comic books. (LEGO would mail you free paper copies, too.) The creative, well-designed toys, rich virtual universe, and numerous collectibles appealed to kids and grownups alike. AFOLs (Adult Fans of Lego) started fan websites with news articles and discussion forums moderated for young eyes. Members posted photos of original LEGO creations, artwork, and fiction. Then LEGO gave the fans the ultimate gift: a storyline writer joined the preeminent fan site to answer questions and scatter enticing spoilers.
The Mata Nui Online Game taught my preschooler to read, and BZPower taught me to write. With the feedback and encouragement of the other members, a few "interviews" with the LEGO heroes grew into novellas with original characters and multiple universes, ultimately inspiring Drawn to Disaster.
Thanks, LEGO, and BZPower members, for those days. And thanks, Elaina, for asking about the old stories! (You've given me the ultimate gift: reading my book twice.) I've posted my fanfiction here on this site:
Lily Gee
P.S. Next month my daughter graduates from high school.